In Memory
Joe Guandolo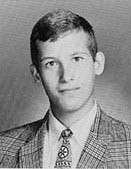 Joe Guandolo passed away on September 1, 2014, in Walkersville, Maryland. He was preceded in death by his parents John and Elizabeth (Wade) Guandolo and a close uncle and godfather Kevin Wade. He is survived by his soulmate Frances Rice who visited Joe every day at the nursing home where he resided for many years. Joe was a retired doctor.
Prior to attending WJ, Joe went to Grosvenor ES and North Bethesda Junior High. He graduated from Gettysburg College and medical school in Guadalajara, Mexico. In 1979, Joe suffered a brain aneursym that left him blind and unable to walk. He had been residing most recently in the Glade Valley Nursing Facility in Walkersville, Maryland, outside of Frederick. Joe found great strength in his deep belief in God and Jesus and in his study of the Bible. In spite of all his challenges, Joe was an upbeat and positive "glass half full" type of person. He never complained. That comes through in his linked profile, which was dictated in 2009 for the website. He had a big heart, inquisitive mind (he loved history through audio books), and great sense of humor.
Joe attended the 40-Year Reunion accompanied by Frances. He cherished his friends and memories from his youth and very much appreciated the emails (sent through the website), calls, and visits. Although it didn't work out because of some physical limitations with his hands, he also very much appreciated efforts to help him become computer literate through use of adaptive technology for the blind.
Joe was laid to rest on Saturday, September 6, 2014, in Barnesville, Maryland, in the shadow of Sugarloaf Mountain, on a beautiful sunny morning. His funeral was a moving service with many people remembering Joe and how he touched their lives and provided inspiration.
Joe will be deeply missed. His story is a profile in courage in the face of adversity.