In Memory
Debby Shacter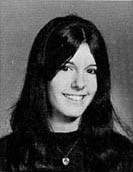 Debby Shacter passed away on March 16, 2014. She grew up in Maplewood, attended Alta Vista ES, NB, and Walter Johnson. She is survived by her mom Francine, sister Emily, and and brothers Michael and Jeffrey. Her father, Bernard Shacter, predeceased her. Debby lived in Rockville.
Debby was an Information Management Consultant whose clients included the National Wildlife Federation, Smithsonian Business Ventures, and Fannie Mae. As indicated in her profile, Debby was an avid lifelong Kinks fan. She attended our 40th Reunion in 2009. Debby was loved and will be deeply missed by her family and friends.
According to her Washington Post obituary on March 23, a memorial service will be scheduled at a later date.